StackHub
Open StackHub Account
Open account on stackhub.org
Create or join to existing company
Contact us and supply the company name to us
Enable StackHub extension
Click on "Settings"
Click on "Extensions"
StackHub 

Click on "Enable"
The line will turn colored instead of grayed out icon.
Login to StackHub
Click on StackHub application
Hit "Login" button
Enter user name and password

Verify on right that you are logged in. 
If logged in, login button will turn into logout and right of it will write the email of the logged in account.

Click on "Search"
Find bassgVisualytik
Select bassgVisualytik by clicking on the name "bassgVisualytik"
Click on "Install"
 Setup Version V3
Installing extension pod
Install visualytik as usual pod through StackHub application.
Go to SkySpark home page
Click on Host application
Open "Install" tab
Click "Install" button
In new dialog type "bas" in text field and press search button
In the list choose "bassgVisualytik" and click "Install" button
Restart SkySpark after
After that you need enable extension for project. Do next steps for each project:
Open project home page
Open Settings app
Ensure "Exts" tab is selected
Select "bassgVisualytik" and press "Enable" button
Confirm to enable dependencies
Licensing Visualytik
You have installed and enabled Visualytik pod. Now you need to license it.
Enabling projects
Now you can see projects list in License tab:

Click enable button for projects you need Visualytik to work with. Keep in mind license has limit. You can see usage of license capacity in "Usage"column.
Run Visualytik
To run visualytik go to project's home page and click Visualytik Icon.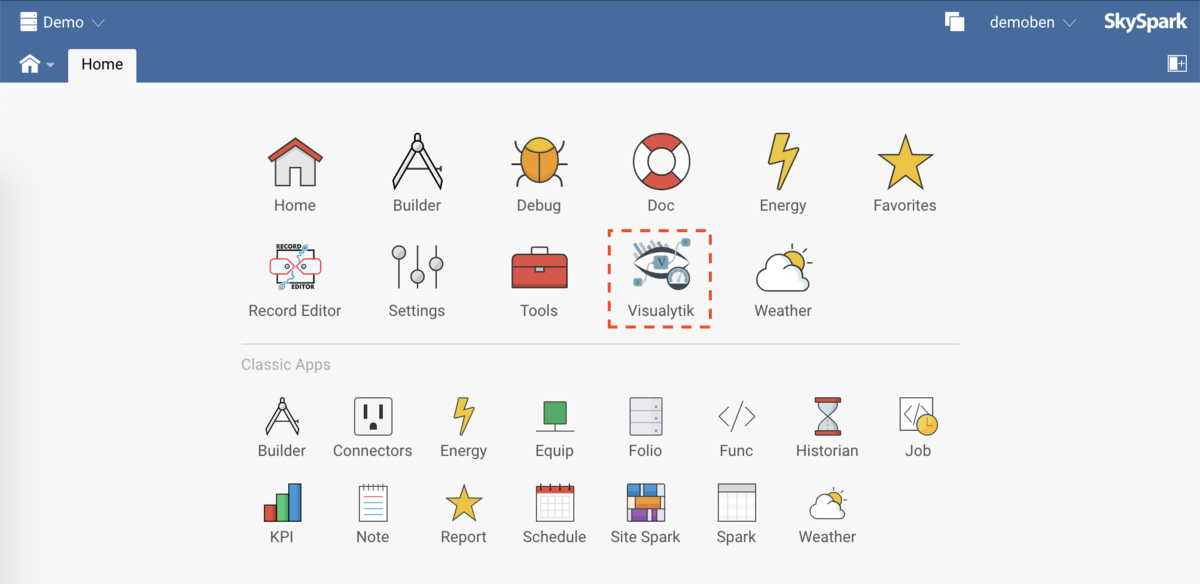 Next reading